11. Mai 2009
Spieler & Legenden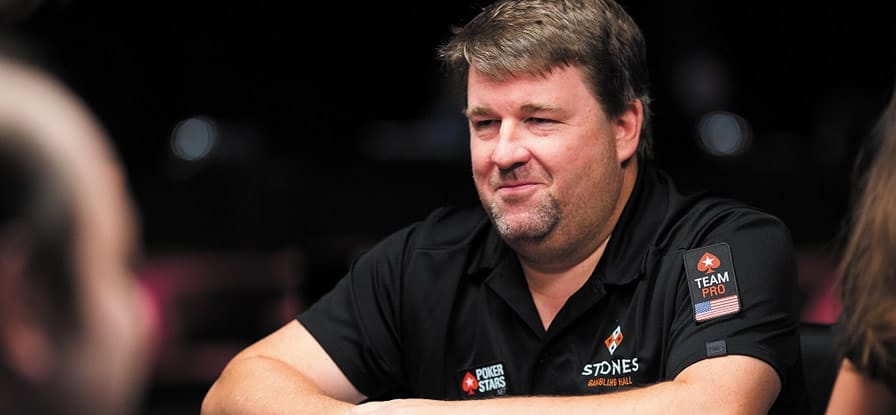 Chris Moneymaker ist eine Legende unter den Pokerprofis. Heute möchten wir euch eine der wohl unglaublichsten Geschichten aus der Welt des Poker erzählen. In der Hauptrolle Christopher Bryan Moneymaker. Wer hier denkt, dass der junge Mann sich einen tollen Künstlernamen als Pokerspieler zugelegt hat, der wird hier bereits das erste Mal überrascht sein. Chris Moneymaker ist der bürgerliche Nachname des Herren, der in Arizona geboren und im folgenden Pokermärchen unsere Hauptrolle spielt. Lehnen Sie sich zurück und vergessen Sie nie, folgendes ist wirklich so passiert:
Vom Studenten zum Pokerprofi
Der junge Student der University of Tennessee, Chris Moneymaker, spielte schon früh mit seiner Oma und seinem Dad verschiedenste Kartenspiele. Während seines Studiums übte er verschiede Tätigkeiten aus um an etwas Geld zu gelangen. So verschaffte ihm eine Agentur eine Nebenrolle in dem 1998 erschienen Pokerfilm Rounders.
Am Set hatte er erstmals intensiven Kontakt zum Poker und setzte sich ab da an ernsthaft mit diesem Spiel auseinander. Zu Anfang spielte er vor allem mit Freunden und später auch Online. Da der nächste Cardroom, in dem Chris hätte um Geld spielen können, 4 Stunden entfernt lag. Bei PokerStars, spielt Chris noch heute unter dem Namen "Money800" und genau dort fing alles so richtig an.
Die ersten Turniere von Chris Moneymaker
Zu Beginn spielte Chris Moneymaker vor allem 20$ und 30$-Turniere bis er eines Tages im Jahre 2003 ein 38$ Turnier mit 16 Teilnehmern entdeckte. Bei diesem gab es einen Platz für das WSoP (World Series of Poker) Satellite-Turnier zu gewinnen. Bei diesem Turnier, für das sich 60 Leute qualifiziert hatten, konnte Moneymaker sich am Ende durchsetzen. Er gewann einen 10.000$ wertvollen Startplatz für die WSoP in Las Vegas.
Las Vegas – Die große Welt des Poker
Um dort überhaupt hinzukommen, lieh sich Chris Geld von seinem Dad und einem Freund, denen er im Falle eines Gewinns eine Beteiligung versprach. Beide sollten diese Investition nicht bereuen, so viel darf man bereits hier verraten! Am ersten Tag im Las Vegas' Binion Horseshoe Casino hatte Chris sich das Ziel gesetzt einfach nur zu bestehen. Als er diesen Tag jedoch mit Chips im Wert von 60.000$ beendete, gab ihm das die Sicherheit und die Zuversicht, sein Spiel weiter durchzubringen. Am zweiten Tag landete er bereits an einem Fernsehtisch, an dem er neben seinen großen Idolen Johnny Chan und Howard Lederer sitzen durfte. Doch Moneymaker ließ sich nur ein einziges Mal seinen Amateurstatus anmerken, als er nach einem Re-Raise von Lederer vergaß, dass er an der Reihe war. Erst nachdem ihn Chan darauf hinwies, foldete Moneymaker. Doch sonst wusste er zu beeindrucken, ließ sich nicht einschüchtern und überraschte die Namenhafte Konkurrenz.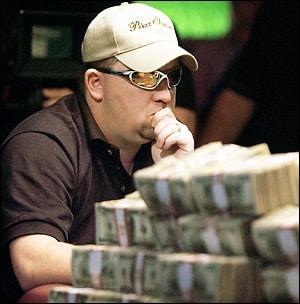 Bereits in aller Munde, landete Chris Moneymaker am Finaltisch der World Serie of Poker, dem wohl größten Turnier weltweit. Tolle Geschichte? Glauben Sie? Doch hier ist noch nicht Schluss, es geht noch weiter. Denn auch am Finaltable spielte Moneymaker unbeeindruckt und cool weiter, wusste das Glück auf seiner Seite, doch bewies auch immer wieder, dass er einiges vom Pokern verstand. Und so saß Moneymaker noch immer am Tisch, nach dem sich alle aus dem Turnier verabschiedeten hatten, bis auf Sammy Farah.
Das Headsup beim Las Vegas WSoP Turnier
Im Headsup kam es dann zum Showdown. In der letzten Runde des Turniers hielt Moneymaker eine 5-4 auf der Hand und hatte die wohl schlechteren Karten. Denn Farah hielt J-10. Doch dann kam der Flop. J-5-4 und Moneymaker hatte zwei Pärchen getroffen, während Farah "nur" ein Paar Buben besaß. Nun stand fest, dass das Turnier hier Enden würde und Farah nur eine Chance hätte, sollte er auf dem River eine 10 oder einen J treffen. Doch dann kam der River, eine weitere 5 und Moneymaker, der Amateur, der Onlinequalifikant, gewann nicht nur die WSoP, sondern damit auch 2.500.000 $.
Der Chris Moneymaker Effekt
Sein Sieg als Amateur löste in den USA und auch weltweit einen unglaublichen Pokerboom aus, den man seitdem als "Moneymaker-Effekt" bezeichnet. Von seinem Sieg spendete Chris 25.000$ für die Krebsforschung und hielt sein Versprechen, beteiligte Vater und Freund am Gewinn. Das dieser Sieg keine Eintagsfliege war, bewies Chris bereits ein Jahr später bei einem Bay 101 Shooting Star – Turnier. Hier belegte er 2004 den 2. Platz und gewann 200.000$.
Da Chris sein Studium bereits beendet hatte und als Buchmacher arbeitete, hing er diesen Job an den Nagel und wurde Pokerprofi. Doch Chris ist Bodenständig geblieben und spielt noch heute 30$-Turniere bei PokerStars. Zudem beantwortet er meist geduldig Fragen andere Pokerspieler. Sollte Ihnen also irgendwann "Money800" bei PokerStars begegnen, keine Angst, er will nur spielen! Altuelle Infos von Chris direkt lassen sich in seinen Twitter Kanal verfolgen.