7. Juni 2009
Spieler & Legenden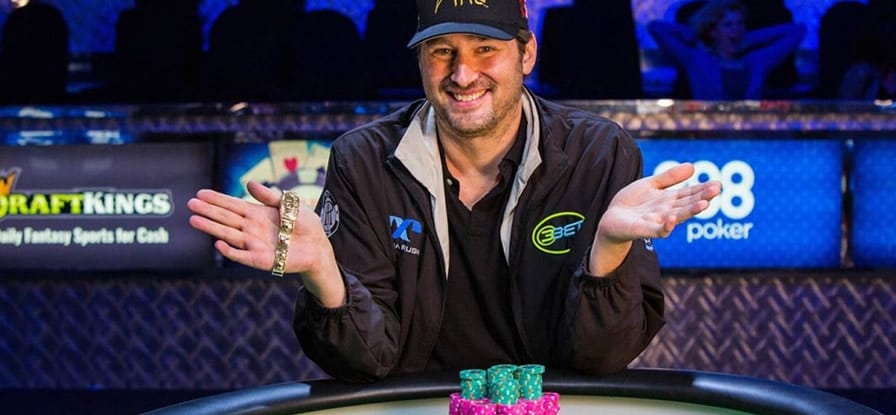 Phil Hellmuth, der eine hasst Ihn, der andere liebt ihn. Er ist ein Typ der polarisiert, was er vor allem seiner ziemlich großen Klappe zu verdanken hat! Er selber behauptet von sich der beste Pokerspieler aller Zeiten zu sein und inzwischen elf goldene Armbänder, sogenannte Bracelets, bei den World Series of Poker sprechen eine klare Sprache.
Die Poker-Legende Phil Hellmuth
Hellmuth ist eine der bemerkenswertesten Personen im Poker und viele Fans haben eine starke Meinung von ihm, sowohl positiv als auch negativ. Während ihm seine elf  Bracelets viel Anerkennung bringen, kommt sein schlechter Ruf vor allem durch seine Unfähigkeit mit Niederlagen umzugehen zustande. So ist es auch nicht verwunderlich das folgendes Zitat von Phil stammt: "If there weren't luck involved, i guess i'd win every one.", was übersetzt so viel heißt wie, "Würde Glück hier keine Rolle spielen, bin ich mir sicher, ich würde jedesmal gewinnen!".
Doch wenn du den World Series of Poker Rekord hältst für die meisten WSoP Bracelets (11), die meisten Cashes (68) und die meisten Final Tables (41) und ein Mitglied der Poker Hall of Fame bist, dann hast du dir das Recht verdient ein wenig anzugeben. Aufgrund seines Verhaltens hat sich Phil Hellmuth aber auch den Spitznamen "The Poker Brat", also der "Poker-Rüpel" redlich verdient.
Er ist bekannt für seine Ausraster am Tisch, seine sarkastischen Kommentare und sein andauerndes Gelaber. Einmal traf ein Gegner einen 3-Outer um einen Pot gegen Hellmuth zu gewinnen und dieser beschuldigte seinen Gegner das Wort Poker nicht einmal buchstabieren zu können. Wie sie also selbst merken, sorgt Hellmuth an jedem Tisch, für reichlich Unterhaltungswert und wo Phil ist, sind die Kameras nicht weit!
Privates und Erfolge von Phil Hellmuth
Phillip J. Hellmuth Jr. wurde am 16. Juli, 1964 in Madison, Wisconsin geboren, wo er unter anderem 3 Jahre zur Universität ging bevor er sein Studium hinschmiss um professionell Poker zu spielen. 1989 wurde Hellmuth im Alter von 24 Jahren zum jüngsten WSoP Main Event Gewinner aller Zeiten, nachdem er den zweimaligen und amtierenden Champion Johnny Chan im Heads-Up besiegte. Dieser Rekord wurde erst 2008 gebrochen als der 22 jährige Peter Eastgate den Titel gewinnen konnte.
2006 holte sich Hellmuth sein zehntes WSoP Bracelet und zog mit Doyle Brunson und Johnny Chan gleich. Doch schon ein Jahr später zog er an ihnen vorbei als er bei der WSoP 2007 das $1,500 No Limit Hold'em Event für sich entscheiden konnte und sich sein elftes Bracelet sicherte. Alle seine elf Bracelets hat Hellmuth mit Texas Hold'em Events gewonnen So fabelhaft seine Bilanz bei der WSoP ist, so hat er im Rahmen der World Poker Tour (WPT) nicht annähernd solche Erfolge zu verbuchen (noch nicht). Bei der WPT konnte er trotz sehr guter Platzierungen noch kein einziges Finale gewinnen.
Mr. Höllenmund und die legendäre WSoP Wette
Legendär ist auch seine Wette während der World Series of Poker 2002. Hellmuth sagte, dass er sich seinen Kopf abrasiert, falls der Amateur Robert Varkonyi, der zu diesem Zeitpunkt nur noch wenige Chips hatte, das Turnier gewönne. Als Varkonyi gewann, beendete ESPN seine Sendung damit, zu zeigen, wie Hellmuths Locken abrasiert wurden. Gespannt darf man auch auf den Ausgang der Wette sein, die er mit Daniel Negreanu laufen hat: Negreanu zahlt 1 Million Dollar, falls Hellmuth ein Bracelet im Seven Card Stud gewinnt.
Hellmuth schrieb bereits einige Poker Bücher, teils mit biografischen Inhalt und publizierte eine DVD mit Pokerlehrvideos, die den vielversprechenden Titel "Phil Hellmuth's Million Dollar Texas Hold'em Poker System" trägt. Und der Mann weiß wie man Millionen verdient.
Am 7. Juli 2007 wurde Phil Hellmuth in die Poker Hall of Fame aufgenommen. Bis dahin gewann er mehr als $10.000.000 mit Poker.