24. Dezember 2019
News & interessantes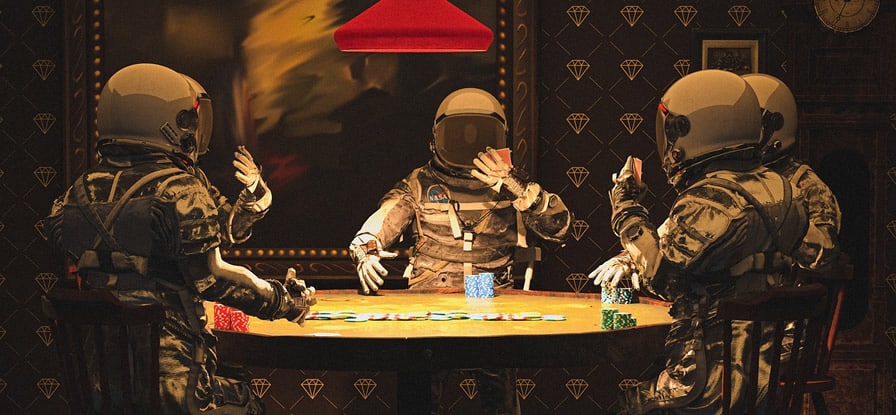 Der Royal Flush Regensburg ist ein Pokerverein. Das Clubhaus des Vereins befindet sich seit 2009 sehr zentral nahe der Donau in der Prinz-Ludwig-Straße 15. Der Regensburger Pokerverein wurde 2005 gegründet und hat seitdem öfter seinen Standort gewechselt. Den Mitgliedern wird dabei ein Programm, was von Poker Turnieren bis hin zu Sit&Gos, Ring Games oder Team-Events reicht, geboten. Zudem werden interessante Vorträge von bekannten Pokerspielern angeboten.
Hin und wieder gibt es auch Seminare zu neuen Pokerstrategien oder auch Film Abende, an denen nicht nur Pokerfilme laufen. Neben dem klassischen Texas Holdem gibt es auch immer wieder Abende an denen andere Poker Varianten wie zum Beispiekl Omaha oder Seven Card Stud gespielt werden.
Die Geschichte des Royal Flush Regensburg
Royal Flush Regensburg e.V wurde 2005 in Regensburg gegründet und ist ein eingetragener Pokerverein. Seit 2009 gibt es im eigenen Clubhouse Pokerräume, in denen Sie jederzeit selbst legal spielen können. Erster Vorstand des Vereins ist Jürgen Bachmann. Zudem ist Royal Flush Regensburg e.V Mitglied der German Federation of Poker und nimmt jedes Jahr an der beliebten Headup-Liga teil. Es gab 2010 eine ordentliche Mitgliederversammlung im Pokerverein.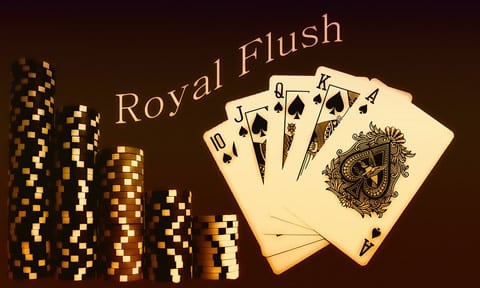 Außergewöhnliche Ereignisse im Pokerverein
Im Pokerverein Royal Flush Regensburg gab es eine Reihe an Specials und Erfolge zu verzeichnen:
Jedes Jahr aufs Neue nach Las Vegas: Ein Teil der Mitglieder von "Royal Flush Regensburg" darf sich jedes Jahr auf die World Series of Poker in den Vereinigten Staaten in Las Vegas freuen. Zusammen wird nämlich zu der WSoP gefahren.
Bounty16 Side Event: Beim Bounty16 Side Event konnte sich Thomas Wolf für das €550 Main-Event qualifizieren. Er setzte sich gegen 28 Spieler durch und durfte damit nach Wien zur Paradise Poker Tour.
WSoP Europe Cannes Satellite im Poker Club: Um das 1800 Euro Package zu gewinnen traten 74 Spieler an. Die glücklichen Gewinner sind dabei Sascha Koal und Michael Richard. Aber auch der 3. Platz über Tobias Eggebrecht durfte sich freuen, er hatte das Main-Event-Ticket für die Paradise Poker Tour Wien (550,- Euro) erspielt.
Satellite zur WPT Wien im Poker Club: Nachdem 100 Spieler gegeneinander angetreten sind, hat sich Martin Hamalla den Gewinn geholt. Er durfte dabei-begleitet von den Mitgliedern von Royal Flush Regensburg- nach Wien ins Montesino und spielte dort in Anwesenheit des Teams das Haupt Event der WPT (3.500 Euro).
Der Verein Royal Flush Regensburg heute
Der Pokerverein gibt auf seiner Website www.royal-flush-poker.de an, jeden Montag das FreezeOut16 um 19 Uhr anzubieten. Donnerstags gibt es ebenfalls um 19 Uhr die Ring Game Challenge. Ob dies allerdings aktuell ist, lässt sich der Website nicht entnehmen. Weiteres gibt es auf der Facebook-Seite des Pokervereins.
Was ist eigentlich ein Royal Flush?
Der Name des Vereins aus Regensburg hat auch eine Bedeutung: Royalflush ist im Poker die beste "Hand", die man beim Spielen haben kann. Eine "Hand" bedeutet, dass man die besten fünf Karten des Spiels hat. Eigentlich ist ein Royal Flush dabei ein Straight Flush, nur mit dem höchsten Ass als Karte (=der höchste Straight Flush). Ein Beispiel hierfür ist z.B. die Abfolge A♣ K♣ Q♣ J♣ 10♣.
Wenn zwei Spieler den Royal Flush haben wird der Pot geteilt. Dies ist aber nach der Wahrscheinlichkeit höchst unwahrscheinlich. Für den Royal Flush selbst gibt es insgesamt 4 Möglichkeiten (ein höchstmögliches Ass + die vier verschiedenen Farben).